This project has made me so excited about our bedroom!
My parents had an old door in their storage space (I learned today that my grandparents had found it originally.), and I was in need of a headboard in the master bedroom.
It was cute to begin with, but it didn't do anything for the room. I just bought new bedding, so I decided to find a paint color to match it.
Side note on the bedding: I found it at the store, bought a pillow to see if it matched the paint color in our house, returned to buy the bed set, but they didn't have the size we needed. This didn't stop me. The sale was also online, and there was a deal for free shipping. In addition to these great perks, I searched for coupon codes. I ended up saving almost $30 more!
Back to the headboard. I started by taking the fixtures off and sanding the door. I didn't fix any of the nicks and holes that come with time. It adds to the character! Then, I primed it with two coats of Kilz. It took two coats of the colored paint before I was satisfied with the look. Excitement was really taking over at this point.
My dad and husband helped me with the installation. I'm so glad I have my own personal handy men!
We began by marking out with tape where we wanted the edges of the door. It took my dad and hubby holding it while I previewed and taped.

I couldn't resist including a picture of my little helper!

My dad had previously cut the boards using his table saw. I found installation directions at
Martha Stewart
. A 1x4 is cut in half at a 45 degree angle. We screwed one side of the board to the back of the door.
The other half of the board was attached to the wall. Make sure to screw it into studs.
The board on the door hooks into the board on the wall.

Here is the finished product. I am in love!
If you like the lamps, check out how much I paid for them here.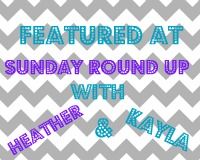 Linked To: Domestically Speaking,
Tatertots and Jello
, Heatherly Loves , Kayla's Creations, Debbiedoo's